Celebrating International Day of Women and Girls in Science with Laura Jones, Chief Strategy Officer, BAV Group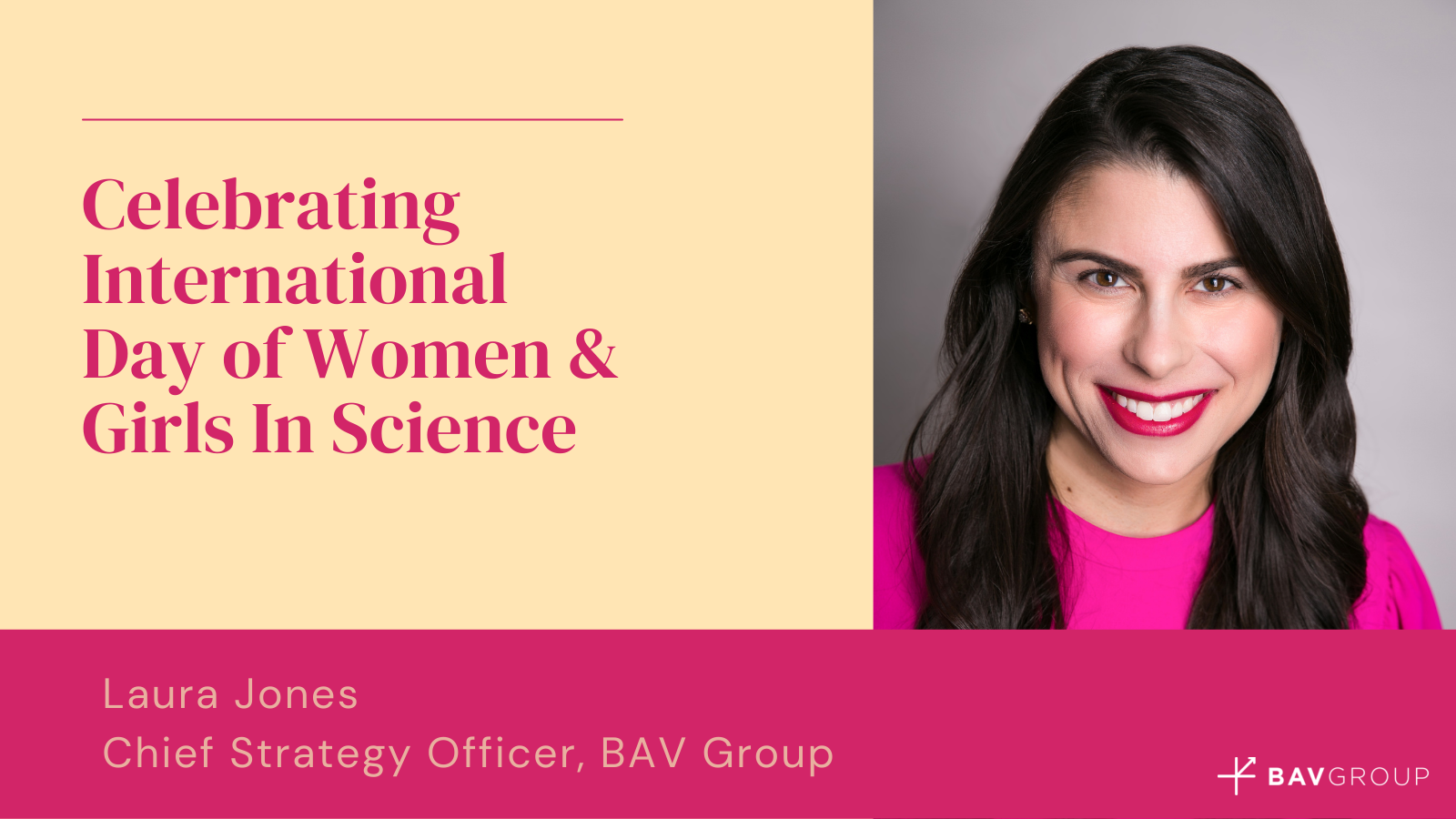 In 2015, The United Nationals General Assembly declared February 11th as International Day of Women and Girls in Science to further achieve gender equality and the empowerment of these under represented groups. In honor of the 7th International Day of Women and Girls in Science, I'd like to share with you seven pieces of advice to reflect on as you navigate your careers.
1. For The Love of Data Science: My journey into data science started in the shadow of Y2K on my college application. The year was 1999, and I wanted a way to easily visualize all my sports and activities, cross-tabbed with the years I had participated in each activity. My mom mentioned this 'cutting edge' data processing software where I could neatly organize this information into rows and columns. That program was Microsoft Excel. Over 20 years later, it's still going strong. I guess the data entry did the trick because I was accepted to the Villanova School of Business. While I didn't realize it at the time, this was the first sign that loving data science would be in my future, and my love for the field is what motivates me to show up in my role each day.
2. Be Data Curious: At BAV Group, we say you can be just as creative with an advertising campaign or insight as you can with a factor solution or line of code. It's all about innovating in your analytic techniques and never stopping at good enough. Gut check your data and don't be afraid start again, there's always more than one way to skin a spreadsheet.
3. Make Data Human: For every hour you spend in a model or writing code, get out into the real world and talk to people. Give your data perspective. It will lead to better outcomes and a more connected you.
4. Data is Beautiful: No one likes ugly data (except maybe its mother). When transforming data into insights, the data used to support must be easily understood and visually appealing. It will more likely be useful and heard. You can also be creative with data! One of my most favorite examples is Volvo's Cannes Lion award winning work with Volvo E.V.A. Initiative. Essentially, the idea was open sourcing data.  
5. Consider A Pause: Years ago, as a new mom, I was learning how to be a working mom and how to make it all work. And working it wasn't. After thinking it through, I decided to do something, which at the time I didn't realize was the best kept secret for some of the most successful senior female leaders in the industry – I took a career pause. Some women freelance, others downshift their days in the office and others take some time off completely. I want to tell you that it is OK to take a pause for any reason necessary for you.
6. I'm Stating The Obvious: I'm sure I don't have to remind you how both conscious and unconscious bias influences so many decisions about women's careers and their trajectories. I don't say this discouragingly, but rather so that you can navigate your career with your eyes open. I encourage you to seek mentors and sources of career support when needed.
7. Your Voice Is Needed: To move the needle on building female leadership in data science & AI, we need to amplify female voices. There has been so much conversation about getting more women in positions of leadership but having a seat at the table doesn't matter if you don't say anything when you're there. Raising your voice and speaking at a conference, on a panel or even during an internal spotlight session can be a step in the right direction.
For this International Day of Women and Girls in Science, I encourage all ladies in this industry to head over to BAV Group's LinkedIn page or Instagram and share stories and words of advice with each other and those who are following in our footsteps. Together we can continue to build the foundation for women and girls to lead in science.