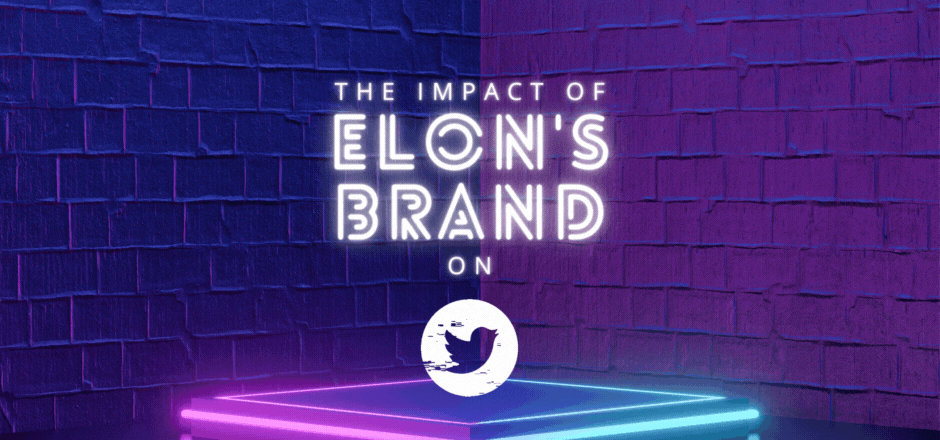 He was the 2021 TIME person of the year. He has over 118 million Twitter followers, making him the second most followed person on the platform he now owns. For the past 15 years, he has been a prominent figure associated with futuristic endeavors, creating intrigue & excitement among the public, holding people at the edge of their seats with the following question: "What will he do next?"
This was all good until he laid his eyes on public's beloved blue bird that tweets – turning excitement into dismay and criticism. Is Elon Musk too big to fail or is his reputation forever tarnished?
To understand what the future holds for Elon Musk, and how Twitter's brand may or may not be benefitting from this. I looked at both brands through the lens of WPP's longest running study of brands – BrandAsset® Valuator (BAV).
Elon Musk's Strength in Numbers
Elon Musk is undoubtedly one of the most differentiated brands in culture, holding a position at the top 1% consistently within the past decade. The general population perceives him as an innovative, visionary and unique Leader – a profile that would make most brands jealous.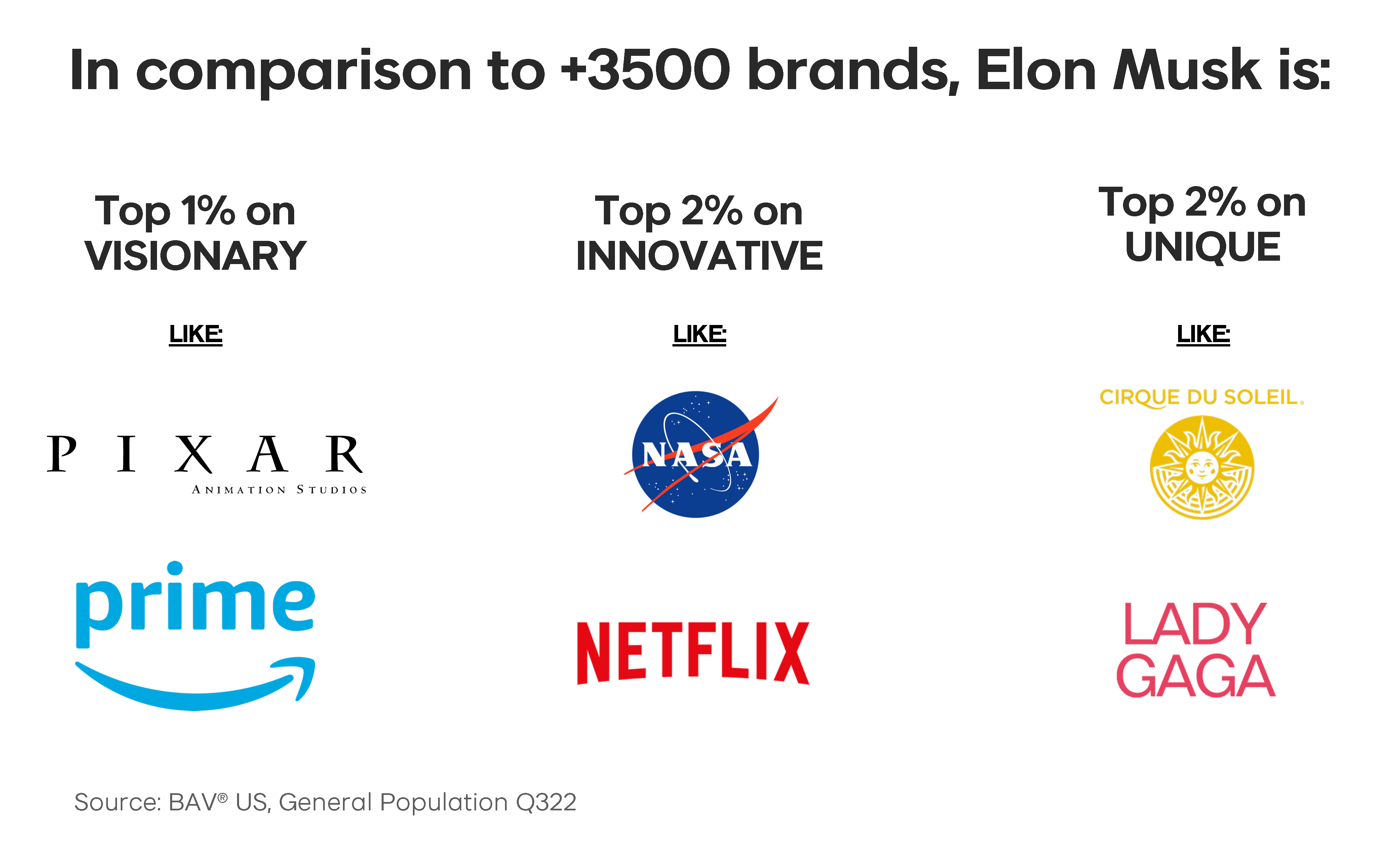 A Shaky Future for Elon's Brand?
But Elon Musk also tops the lists when it comes to strong arrogance and unapproachability – making himself a distant figure. The Twitter takeover saga has certainly not been helpful in shedding these distant perceptions, and we are starting to see its damaging effects on Elon Musk's personal brand. From when the deal was a maybe (Q2 of 2022) to when the deal became a certainty (Q3 of 2022), Musk preserved his strong differentiation among the general population, but esteem – a measure of brand respect – and relevance – a measure of personal relevancy - took big tumbles.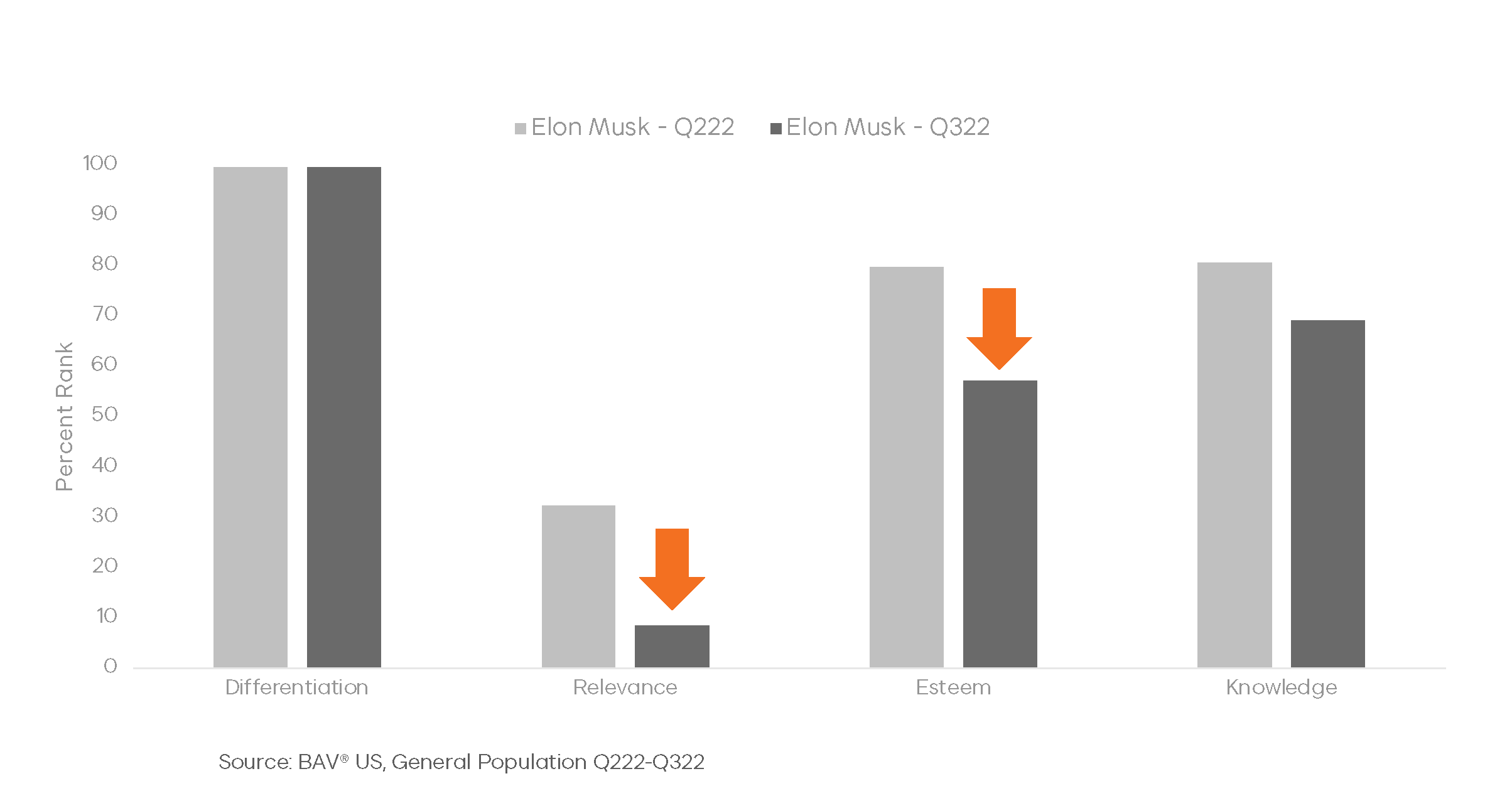 Important perceptions like approachability (kind, authentic, friendly, cares about customers) and reliability (reliable, trustworthy, helpful) were also negatively impacted, perceptually aligning him more closely with brands & figures that are well known for scandals & chaos: Purdue Pharma, Kanye, Putin & Russia. These trends might be only the tip of the iceberg as they are not inclusive of Musk's official take over as CEO and the layoffs that followed.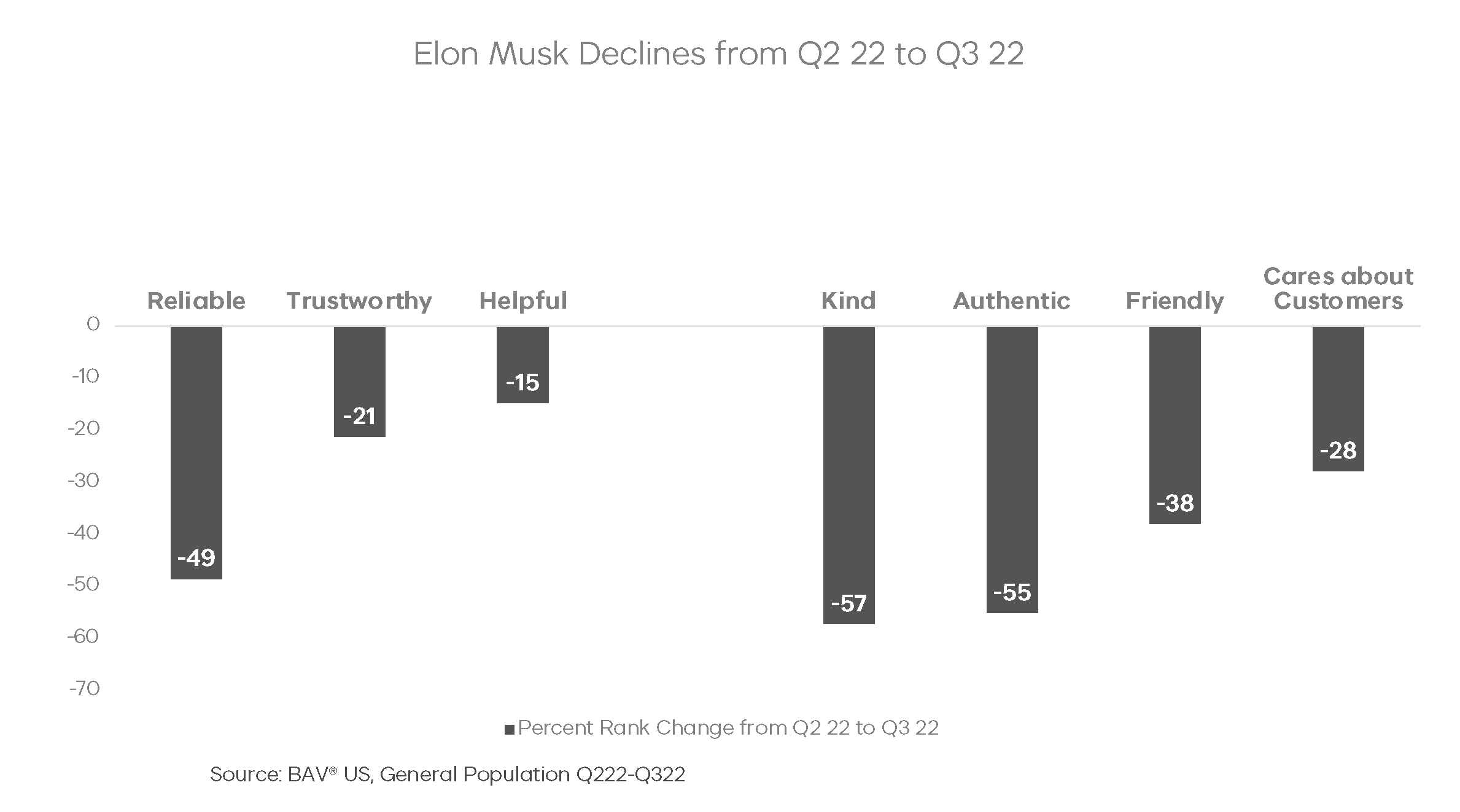 A Twitter Revival (?)
During the same period, Twitter, a brand that has been on the decline in recent years – experienced a reverse trend, with a revival on Differentiation & Esteem as well as gains on Elon Musk's declines – indicative of the public's support for the brand during these tumultuous times.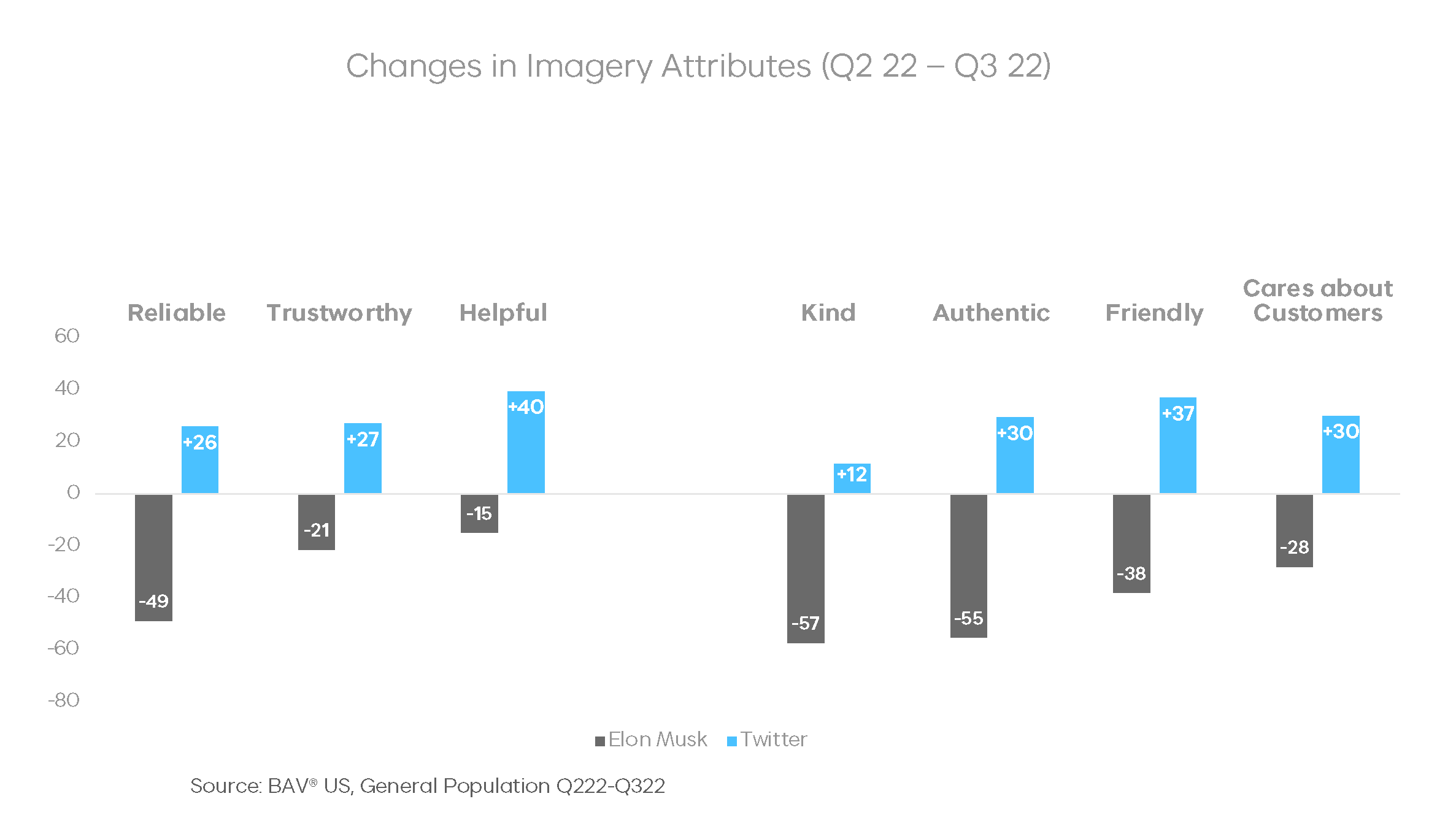 Future Outlook
Society tends to idolize innovators and Elon Musk is no exception to this and continues to have a strong personal brand as a prominent tech leader of today. But there is evidence that his handling of the Twitter takeover has tarnished his reputation in a big way. If he continues like this, we can expect further damage to his personal brand –a red flag especially for someone who leads brands that heavily depend on his personal reputation.
There will always be hope that this will eventually turn into a success story with a new an evolved Twitter 2.0: a futuristic, cutting-edge social media platform – similar to what Tesla & Space X are for their respective categories, but the possibility of a permanent-stain on Elon Musk's strong brand equity is definitely looming over him. Regardless, it will be interesting to monitor how these events unfold. It is certainly important to acknowledge that even if you see yourself as too big to fail, the society won't hesitate to put your reputation on trial.
---
About the Author
Aylin Yasa is a Director of Strategy and Insights within BAV Group and oversees data-driven strategic insight generation and storytelling across a variety of projects and has worked on a multitude of categories, including financial services, government, B2B, retail, CPG, QSR and travel/hospitality. Aylin graduated from Bucknell University where she double majored in Markets, Innovation & Design and French. She currently lives in New York, and is a guest lecturer at various marketing & branding classes at NYU.
LinkedIn: https://www.linkedin.com/in/aylinyasa/