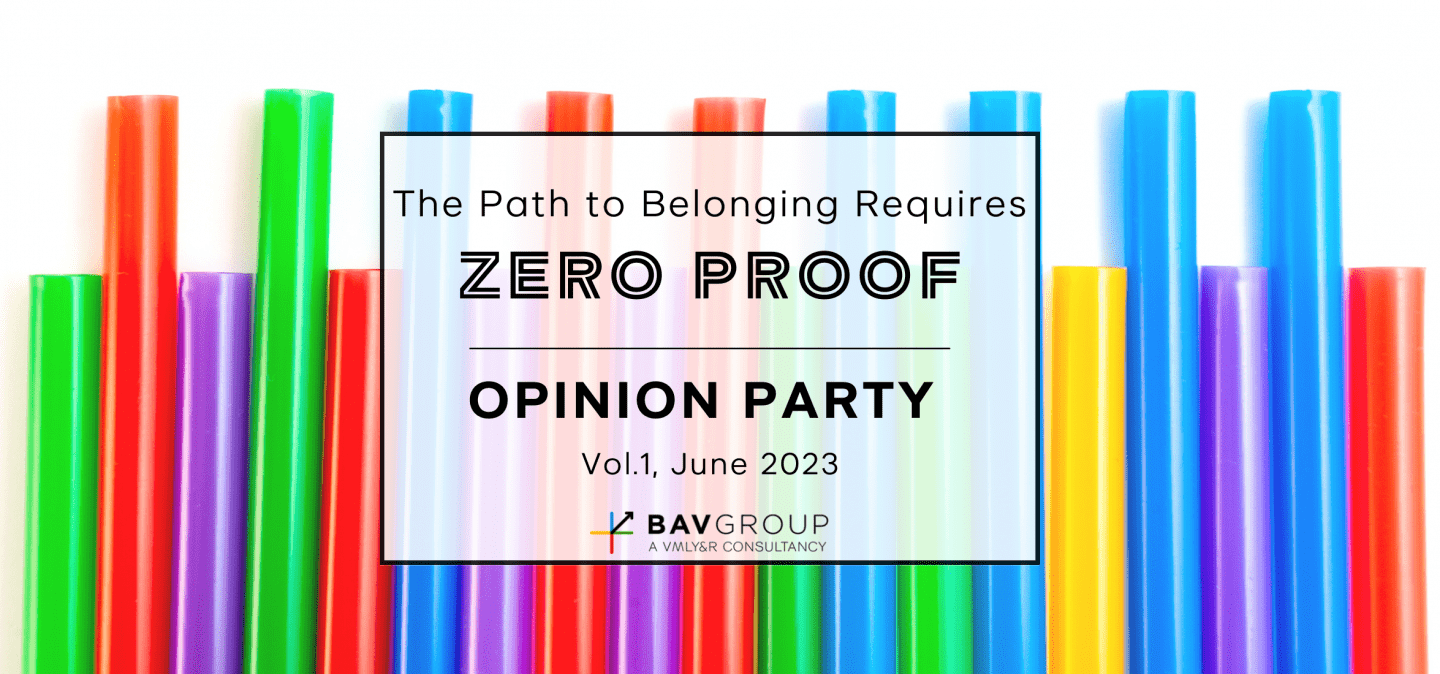 Over the past few years, searches for "zero proof", "non-alcoholic", and "alcohol free" have been steadily increasing. The growing demand for non-alcoholic options appears to be driven by many factors including consumers seeking healthier and hangover-free drinking choices. With interest growing, Curious Elixirs, Athletic Brewing, Hella Cocktail Co., and Liquid Death are among the many brands that have capitalized on this trend, bringing a new generation of non-alcoholic beverages to the masses.
The low- and nonalcoholic category value surpassed $11 billion in 2022. In a true display of widespread adoption, this year's Super Bowl featured a "Heineken 0.0" ad for Heineken's zero proof, non-alcoholic beer.
This beer is joined by Budweiser Zero, Stella Artois Liberte, and Guinness 0 – in the race to add these offerings to traditional alcohol brand rosters. Booze-free and mocktail bars have also started popping up to cater to the "sober-curious" – including NYC spots Hekate and Kava Social. These places help consumers feel that they don't have to drink alcohol to have a good time.
What does this preference shift say about people's priorities, and how can brands participate?
Whether it be for religious beliefs, personal preference, or health concerns – there are plenty of reasons to not consume alcohol. The percentage of American adults who abstain from alcohol is estimated at a whopping 36%, with a reported 15% participating in 'Dry January' in 2023. These consumers are on the search for worthy options to fit their needs. We find - in BAV data, that within the Beer, Cider, and Hard Seltzer category – commitment to inclusion is correlated with emotional commitment to a brand.
With this sizable and growing market, the need for premium non-alcoholic options is increasingly important. Brands can be part of the movement to break down barriers and create a more inclusive culture around gatherings and meal occasions that include non-drinkers, promoting their products to a wider audience and expanding the pool of consumers who feel like they belong. This step can allow everyone to socialize without judgment and opt out of drinking alcohol without facing negative stigma.
Consumers appreciate brands that help them feel like they belong, and by tapping into zero proof – brands can do just that.
---
Want to learn how our data can help you stand out from the competition?
Contact us to schedule a 30 minute complimentary consultation.
---
Opinion Party (Vol 1): Belonging
This article is from the first issue of "Opinion Party" from BAV Group, a collection of points of view that focused on embracing the unknown, trusting ourselves and others, and ultimately a body of work that helps us all to connect around topics that unite us rather than divide us. Explore this, and the rest of the articles, to see how our authors have taken their unique experiences and written informative and timely pieces on the intersection of brands and belonging in today's culture
---
Author: Dor Katz
Dor Katz is an Analytical Brand Strategist with BAV Group. She is passionate about research and data to create insightful branding strategies that help clients shape their business and purpose.
Connect with Dor on LinkedIn.