The Origin Index: Harnessing the Power of Nation Branding
The Best Countries Origin Index is the newest part of our 5th annual Best Countries Report. The largest study of Nation Brands, Best Countries asks over 21,400 people around the world to rate 73 Nation Brands on social, political, economic, geographical and cultural dimensions. Through our Origin Index analysis, we explore the connection between a nation's brand power and the companies that call it home.
The Origin Index uncovers the power of a brand's nation of origin in its ability to influence the purchase preferences of consumers, identifying how marketers can tap into a country's strengths. Country of origin branding has a significant effect on the ability of nations to compete in global markets. 76% of the respondents say they prefer to know where the products they buy come from.
Many nation brands rely on products, industries, and companies to drive brand perception and awareness; for example, Levi's jeans or Facebook as representatives of the United States, Toyota driving perceptions of Japan, or Chanel being almost synonymous with France. Understanding which industries act as a country's beacon abroad can help create deeper industry and government collaborations. Knowing a nation's perceptual weaknesses also influence marketing decisions.
We measured global consumer preference for Country of Origin across 12 key industries. 8 are consistent with last year's report including: Automobiles, Healthcare, Pharmaceuticals, Technology and Electronics, Apparel, Cosmetics, Food, and Wine. This year we added 4 additional industries including: Music and Media, Entertainment, Beer, and Spirits.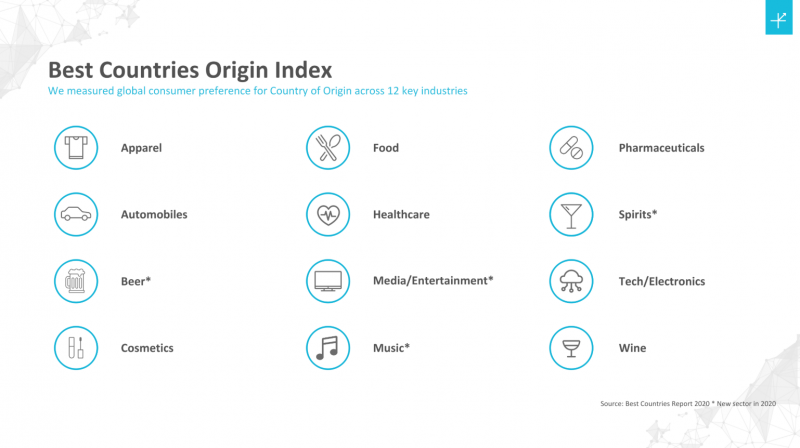 Our 2020 Origin Index analysis found Germany, France, and Italy leading the pack, each taking the #1 ranking in 3 out of the 12 categories measured. Germany wins in Automobiles, Pharmaceuticals, and Beer while France takes the top spot in Music, Cosmetics, and Spirits and not surprisingly, Italy conquers in Food, Wine, and Apparel.
Brand USA ranks in the top 10 across all sectors. The US leads the world in entertainment, ranking #1 with the largest industry in the world between Hollywood, e-sports, gaming, and online video content. Considered one of the world's best engines of innovation, Brand USA ranks #2 in technology and electronics, with American brands performing 46% more visionary than other global technology brands.
Curious to see where your country ranks and how to harness the power of nation branding? Download the full report HERE.
--------------------
Best Countries 2020 in partnership with US News and World Report and The Wharton School of the University of Pennsylvania.
Best Countries is a rankings, news and analysis project created to capture how countries are perceived on a global scale. The rankings evaluate 73 countries across 24 rankings drawn from a survey of more than 20,000 global citizens, measuring 75 metrics that have the potential to drive trade, travel and investment and directly affect national economies. Read the Best Countries report here.
Additional Best Countries 2020 content: