BRANDASSET VALUATOR®
Explore a few of the thousands of brands we continuously measure in our BAV study.
Experience our BAV data firsthand: Select or type in the name of a key brand, and up to two competitor brands from any industry that you'd liked to see it compared to.
NOTE: this is only a small sampling of the brands BAV's syndicated study covers, and the data about the brands is not the most recent.
Power Grid


The four Brand Pillars that capture key components of brand health are Differentiation, Relevance, Esteem and Knowledge.
DIFFERENTIATION

A brand's ability to capture attention in the cultural landscape. A powerful driver of curiosity, advocacy and pricing power.

RELEVANCE

How appropriate and meaningful a brand is to consumers. Drives brand consideration and trial.

ESTEEM

A measure of how highly regarded a brand is and how well it delivers on its promises. Leads to trial and commitment.

KNOWLEDGE

The depth of understanding people have of a brand – both its positive and negative information.
Brands are plotted in two dimensions on the power grid: Stature and Strength. The two dimensions capture the relationship of the four Brand Pillars.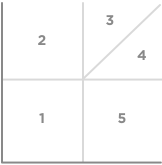 NEW OR UNFOCUSED

Build Awareness and Traction. Must define a clear point of view.

NICHE OR UNREALIZED

Low Earnings. High Potential.

MOMENTUM LEADERSHIP

High Earnings. High Potential.

MASS MARKET

High Earnings. Low Potential.

ERODED

Seriously challenged, hanging on.
Brands & Culture: News Listing