Inclusion in Hollywood: Understanding the Dimensions of Diversity
Since 2016, online conversation about the growing importance of representation in Hollywood rose by 40% in volume. Just in the past year alone films featuring predominantly diverse casts like Black Panther [1], Crazy Rich Asians and Searching [2] made it a watershed year for diversity in movies. Making a combined 234.5M in opening weekend box office sales, their success demonstrates a clear public desire for more representation in films.
What do marketers need to understand about these potential beginning signs of a shift in the economics of racial representation and changing consumer attitudes about identity inclusivity?
We wanted to first see how audiences talk about diverse films in Hollywood. Using our proprietary BAVSocial™ methodology, we conducted a language audit on 330,000 posts to identify key dimensions of the conversation on the films Black Panther, Crazy Rich Asians and Searching.
We found that the conversation on racial representation can be divided into two main branches: Exoticization and Normalization. These two branches further break down into four key dimensions: Storytelling, Hype, Relatability and Casting.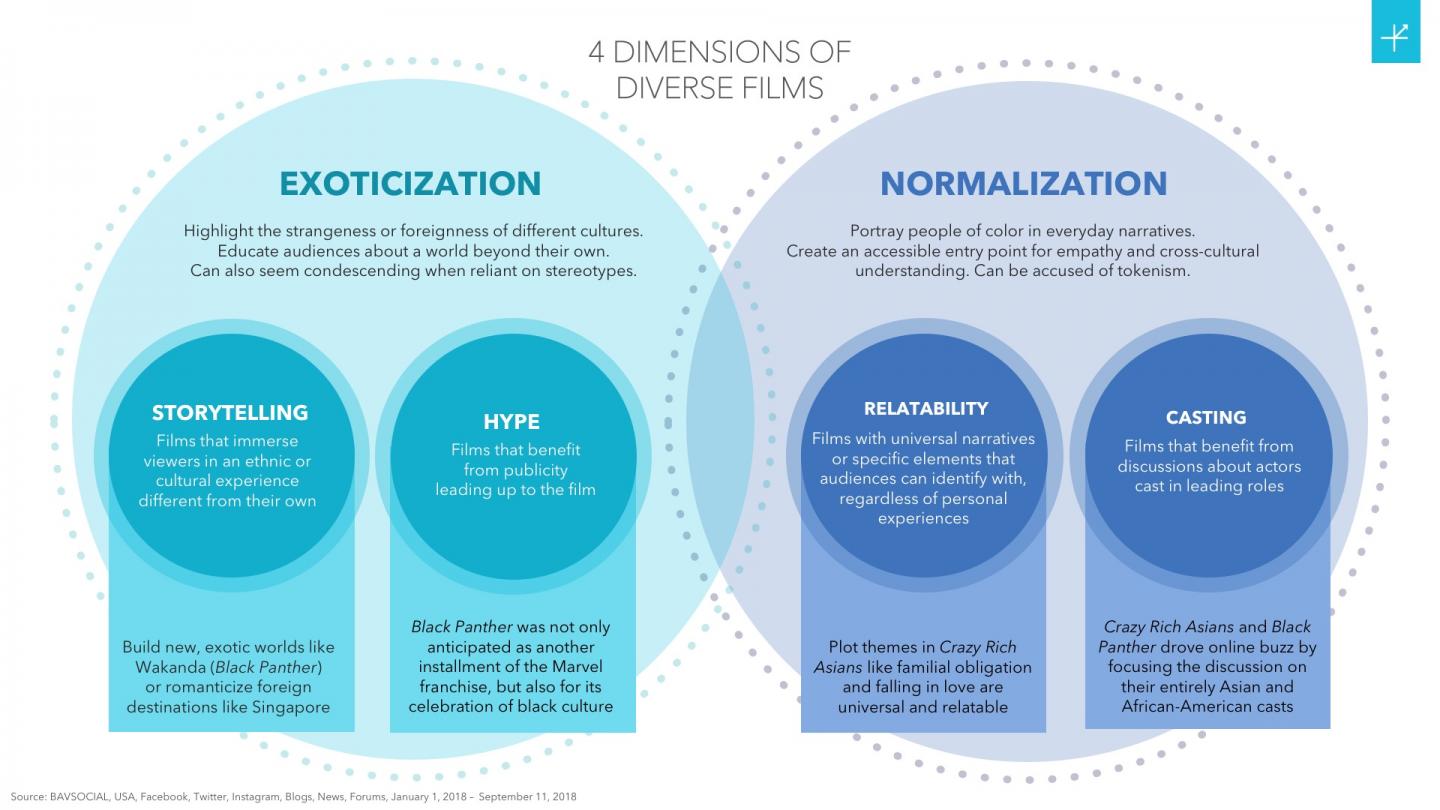 Understandably, we found that 59% of Black Panther conversations fall under Exoticization, as everything from character plots to setting revolved around the fictional country of Wakanda, a thriving, technologically advanced utopia full of color and culture. However, the film actually normalizes in subtle ways; by introducing both African American and African characters to the story, the film celebrates both black cultures in tandem while still treating them as distinct.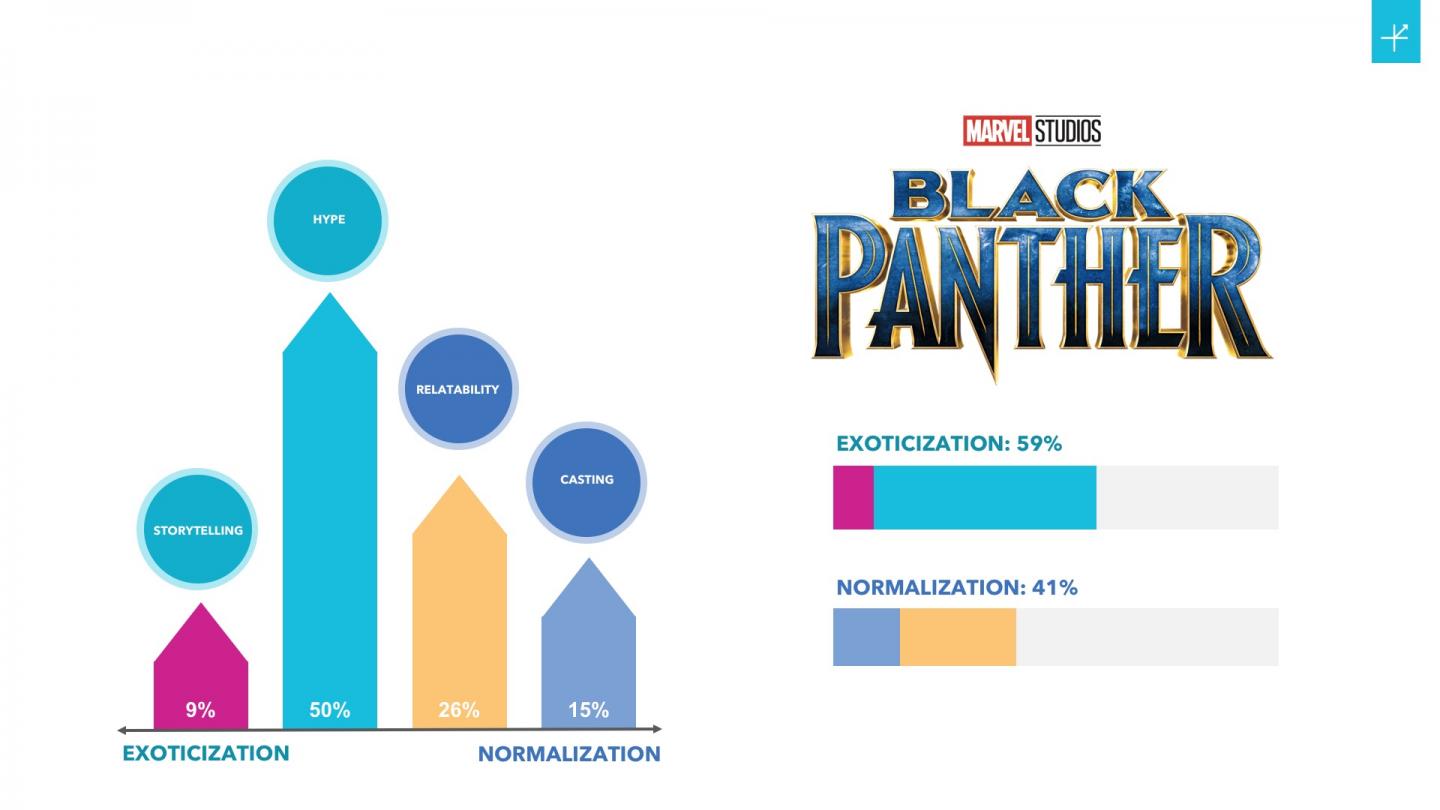 With the release of Crazy Rich Asians and Searching, we assumed that Crazy Rich Asians would fall under Exoticization as well, whereas Searching would fall under Normalization, mainly due to the obvious plot differences; Crazy Rich Asians chronicles the glamorous, jet-setting lives of super-rich Singaporean, while Searching focuses on a normal father who is desperately hunting for his missing daughter by following her online footprints.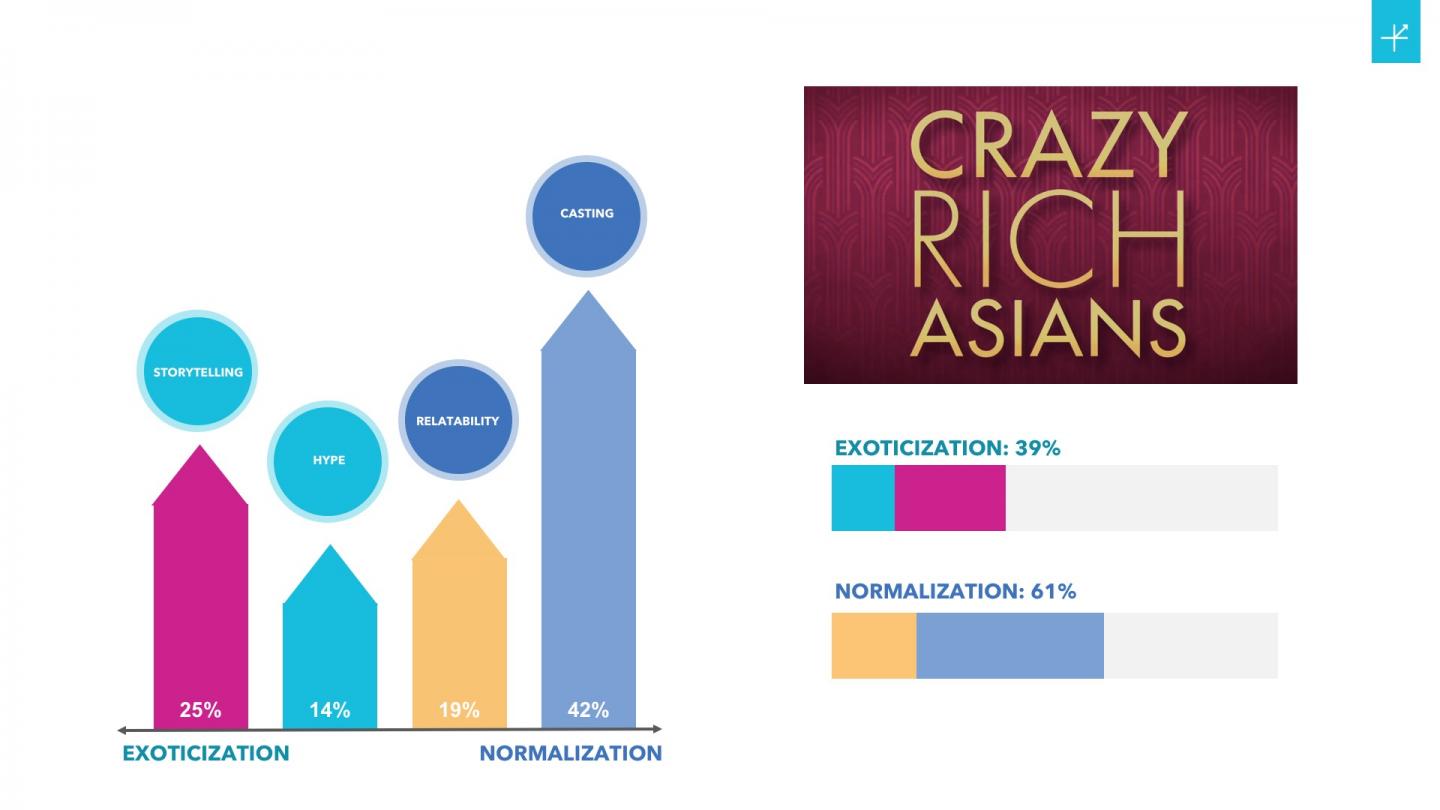 But surprisingly, consumers gave both films credit for normalizing the Asian American experience: 61% of the Crazy Rich Asians conversation was about how casting decisions helped "demystify" Asian culture…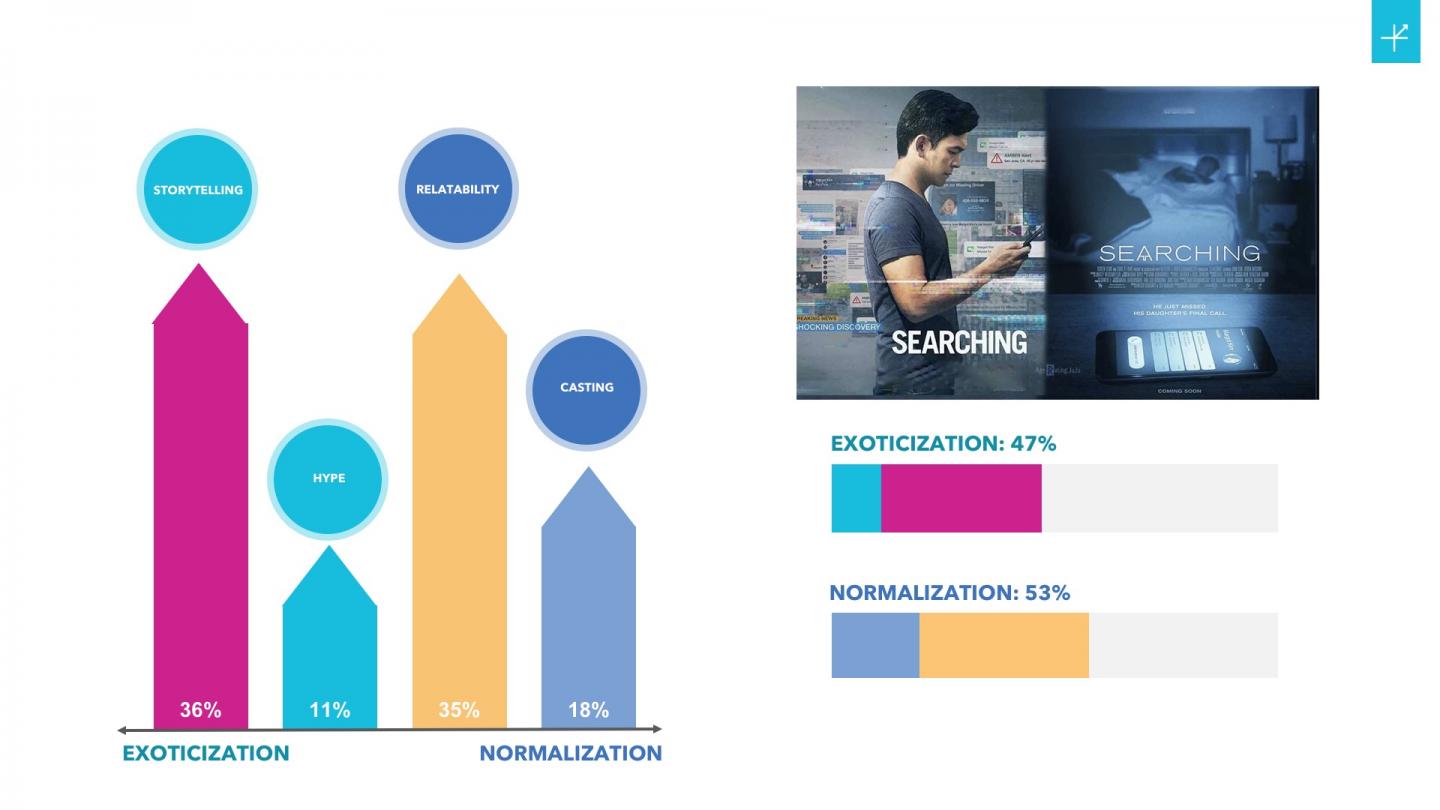 … while 55% of the Searching conversation celebrated the decision to cast John Cho, even though the film is not a specifically "Asian" narrative. These trends speak to a growing consumer appetite for diversity in film and, potentially, a long-term shift in the way films are consumed.
With all three of the films capturing different dimensions of normalization, their success signals to marketers outside of Hollywood that the consumer demand for diversity also requires that diversity to be genuine, normalized and multifaceted. Ultimately, having a balanced, multi-dimensional portfolio is what resonates with consumers. Whether it be through narratives that disrupt long-held beliefs by exposing unfamiliar aspects of a culture, or those that make diversity more accessible, understandable, and relevant to a wide audience – everyone likes to feel acknowledged, included and normal.
---
[1] Mendelson, Scott. 'Black Panther': All The Box Office Records It Broke (And Almost Broke) In Its $242M Debut, Forbes, 19 Feb. 2018, 11:00am, www.forbes.com/sites/scottmendelson/2018/02/19/black-panther-all-the-box-office-records-it-broke-and-almost-broke-in-its-242m-debut/.
[2] Mendelson, Scott. "Box Office: 'Crazy Rich Asians' Dominates Labor Day, 'Operation Finale' Tops 'Searching'." Box Office: 'Crazy Rich Asians' Dominates Labor Day, 'Operation Finale' Tops 'Searching', Forbes, 3 Sept. 2018, 12:00pm, www.forbes.com/sites/scottmendelson/2018/09/03/box-office-crazy-rich-asians-dominates-labor-day-as-operation-finale-tops-newbies/#38b829475ffa.
BAVSocial™ is a global online brand equity model that captures the relationship between online equity and long-term brand growth. BAVSocial™ captures owned, earned and paid social media across Facebook, Instagram, Twitter, and YouTube, as well as earned conversations on blogs, news, and forums.
Written by Kyle Boots, Lindsey Lee & Carolyn Hanuschek