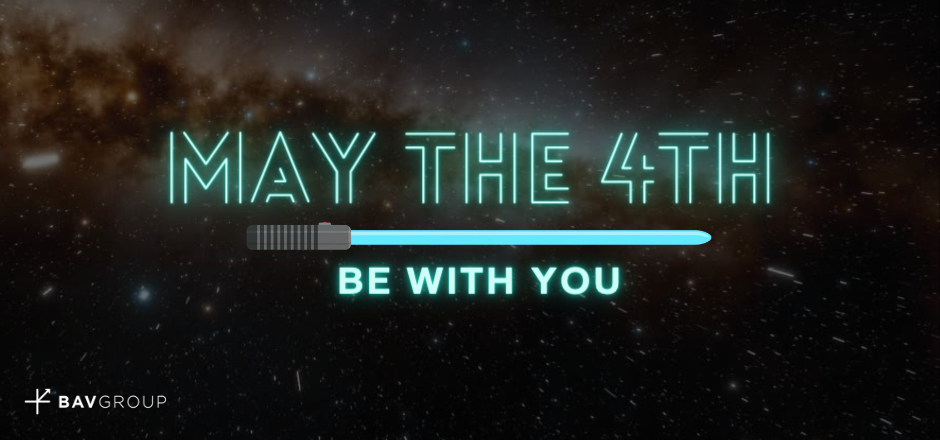 May the 4th is upon us!
Star Wars is a dream brand. It's iconic without ever having become a commodity, working its way so deeply into American (and global) culture that May 4th has become a brand holiday that feels natural and unforced.
So here at BAV Group, we thought we'd take a quick look at the Star Wars as a brand. And of course we're using Star Trek as a comparator, as both are in the syndicated study data, and the rivalry between the Star Wars fans and the Trekkies is nearly as legendary as the brands themselves.
Let's start with a look at their overall brand equity, where they have an interesting balance. In the most recent data, looking at all adults in the US, Star Trek is slightly more differentiated and held in slightly higher esteem. But Star Wars is much more relevant, and people feel like they have a great knowledge of them.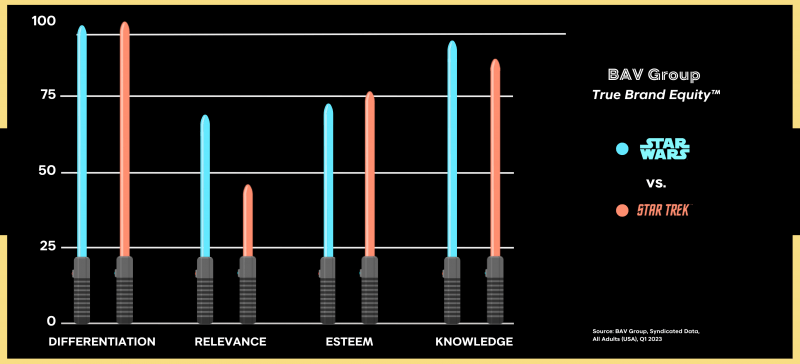 But if we dig deeper we start to see that there is a difference in brand equity based on age. Star Wars has increased relevance, esteem, and knowledge with people 30-49 – with just a slight dip in differentiation.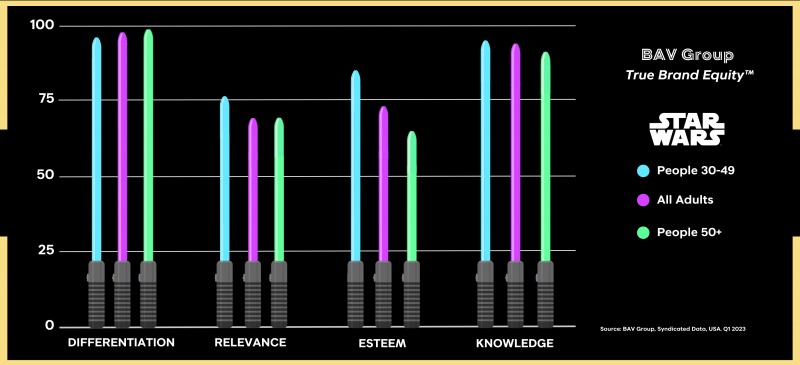 Across almost all BrandAsset® Valuator (BAV) metrics, Star Wars and Star Trek are nearly identical. There is some nuance, especially by age or ethnic background.
But what turns out to be most interesting, and possibly the greatest opportunity or risk for both franchises is that both are emotionally driven choices and neither is seen as necessarily being "worth more." The same is true of Harry Potter and recent entries into the Star Trek universe. But Star Wars is closer to moving into the high worth area, but no where near the territory that makes it worth paying more for.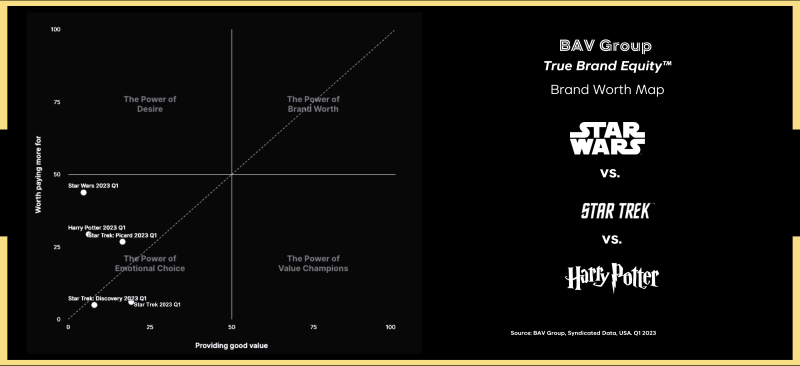 In the end, both Star Wars and Star Trek are iconic brands with enviable True Brand Equity™️. So, whether you are a trekkie or fan of the force, you can rest assured that both brands are strong. But it does make me wonder, what could Star Wars (or any entertainment brand) do to not only have the emotional connection but also be seen as being high worth and high value? How or who experiences Star Wars as a brand that is a both emotional and worth paying more for?
Does it matter? It will as costs go up and the number of streaming options does too.
May the 4th Be With You.
About the Author
Ketzirah Lesser
Ketzirah Lesser is an Executive Director with VMLY&R and Chief of Staff with BAV Group. She brings experience in brand, digital strategy, customer experience, direct marketing, integrated communications and loyalty marketing.
Over the course of her career, she has worked with B2C and B2B brands in every category imaginable including clients ranging from AARP to Zytiga. Her focus has always been aligning customer needs with achieve client goals and reinforce the brand value at every touchpoint.From 2016-2021, she served as Director of Campaign Strategy for the highly awarded 2020 Census Integrated Communications Campaign, one of the most complex communications campaigns in American history.
Ketzirah is a writer and presenting on topics ranging from data-driven branding, loyalty marketing, generational theory, social media ethics in healthcare marketing (SXSW), marketing strategy, and healthcare marketing regulations.