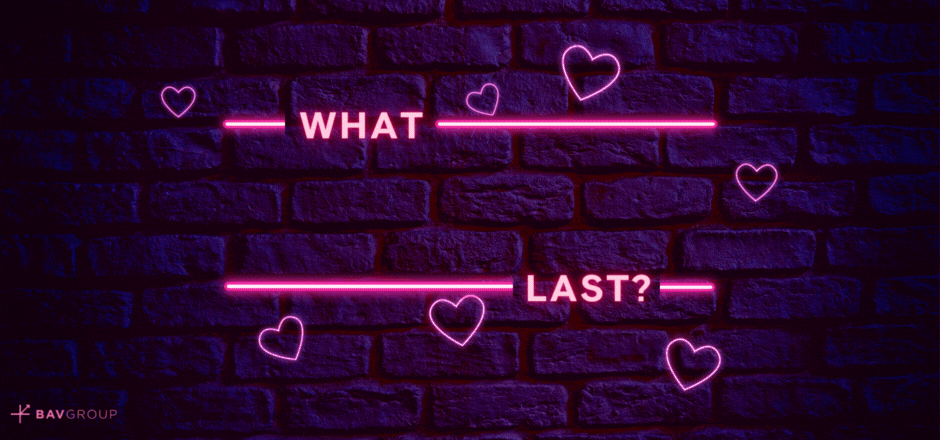 We often compare brands to people.
We talk about brand personality, brand value…and even brand love. On the International Day of Love (aka Valentine's Day), I wanted to better understand what makes consumers fall in love with a brand and what differentiates a fling to an enduring love relationship to see what we could learn about creating love that lasts.
Leveraging BAV's Brand Love metric, I looked at brands that were consistently short-listed in the top 100 most loved brands over the past 5 years and identified what they have in common:
4 Tips to Cultivate Long-lasting Love Based on BrandAsset® Valuator Data:
Build a solid foundation: A healthy relationship starts with a strong foundation; brands that are loved year after year are first and foremost seen as reliable and trustworthy. 
Be an everyday ally: It's the little things that make everyday life better that count; most loved brands stand out for being simple and have high everyday relevance.
Keep the magic alive: While the honeymoon phase might not last forever, it is important to keep the spark alive with consumers. Most loved brands rank in the top 25th percentile on fun and energetic.
Communication is key:  On average, loved brands are amongst the most social brands in culture. They share their voice through ads, social media, experiences, etc. 
While brand love is sometimes perceived as a logicless emotion, when we scratch beneath the surface, we see that durable love relationships are all grounded in the same principles. Perhaps another commonality between people and brands?
[Note: reliable, trustworthy, simple, fun, energetic, and social are 6 of the 48 consistent imagery attributes that BAV uses to understand brands across all categories.]
---
About the Author
Sandrine is a Manager, Strategy & Insights at BAV Group. She joined the team after finishing a master's degree in social and consumer psychology at New York University. She is a detailed-oriented thinker who loves exploring the hidden meaning in data to uncover why consumers behave as they do.
Originally from Canada, Sandrine holds a trilingual bachelor of commerce degree in marketing from HEC Montreal and has worked for three years as an account manager at lg2, a leading Canadian advertising agency. While there, she gained experience in an array of industries, including food and beverage, retail, and tourism.
In her spare time, Sandrine enjoys cooking as well as sharing a good meal with family and friends. She also loves art galleries, Chef's Table, and maple syrup—as the true Canadian she is!
LinkedIn: https://www.linkedin.com/in/sandrine-martin-78358247/