Health is a lifestyle. It's not just about eating right but also about drinking the right liquids and exercising. People are trying to "healthify" their lifestyle by choosing the brands that accurately represent what they want.
You are what you eat. We've all heard this before, but millennials take it to heart more than the general population does. There are many factors that get millennials to be loyal to a brand when it comes to food. Some include whether the product is organic, natural, eco-friendly or local. Also, millennial consumers factor in whether a company is authentic and transparent and gives back to the community.
According to the Organic Trade Association, more than 50% of parents who buy organic food are millennials (ages 18–34) in the United States. With all the documentaries surrounding factory farming, GMOs and pesticides, people need to be sure that what they're eating is real and healthy, that they're buying from a brand they trust. Millennials pay close attention to the fact that the brands they consume are not simply a product but have a story that is in line with their beliefs. This is why brands like Chobani and Luna Bar perform better among millennials than among the general population.

All brands among millennials, compared to the general population, are positioned higher on the BAV® PowerGrid. Most of the brands are in the leadership quadrant of the grid, or in the niche quadrant and moving toward becoming a leadership brand.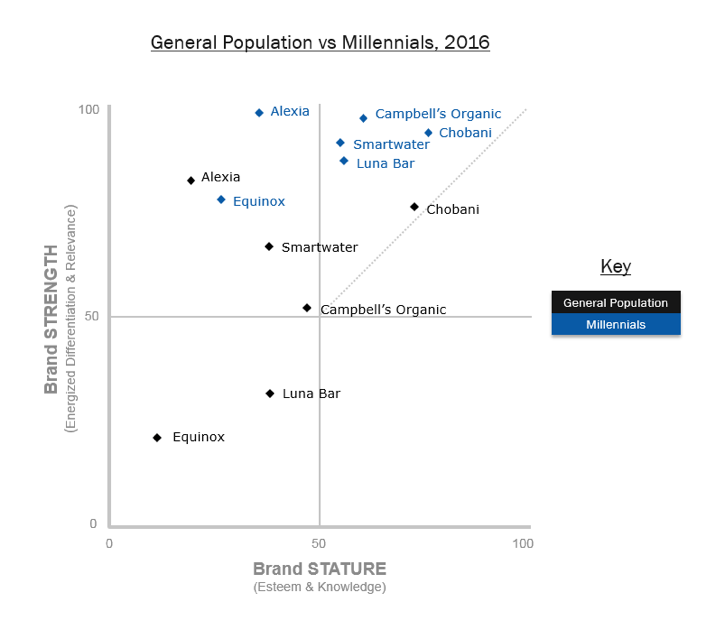 By taking a closer look at some of the brands, such as Chobani, Alexia, Luna Bar and Campbell's Organic, we find that they share differentiating qualities that get consumers to gravitate toward them.
Chobani has a "less is more" approach where their clean labels show that their product has 40% less sugar and contains only non-GMO ingredients that are locally sourced.
Alexia appeals to millennials for the convenience of fresh farm products to the ease of cooking and preparing their meals. They are transparent on their FAQs section of their website and include videos of how their all-natural ingredients are sourced. Alexia brings gourmet food to millennials with convenience.
Campbell's Organic clearly commits to food without preservatives or compromises and is USDA-certified organic to "warm your body and soul."
Luna Bar positions themselves as being conscientious of their environment footprint, making sure that they make their products with sustainable, organic ingredients, renewable energy and environmentally friendly packaging. Their bars are packed with 7–8g of protein and 5g of sugar and are gluten-free. Luna also donates 1% of all product sales to charities that support environmental, social and cultural needs, such as the Breast Cancer Fund.

 
Similar to these food brands, Smartwater and Equinox appeal to millennials through their own differentiation. Smartwater is "inspired by the clouds" and doesn't contain any GE- or GMO-sourced ingredients. Equinox offers a high-end luxury fitness club whose membership becomes a lifestyle, where consumers can "commit to something."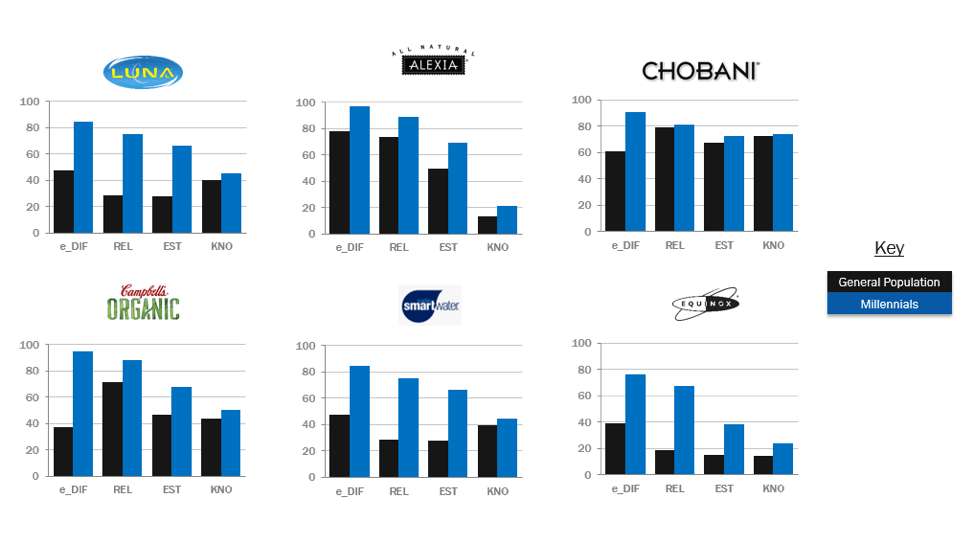 Among millennials, all the brands perform much higher on Energized Differentiation. These brands have more momentum and can command higher price points than their competitors can because they offer something unique. All of the brands' pillar relationships are ideal for being able to further develop Relevance, Esteem and Knowledge to eventually grow to where they maximize on all the pillars.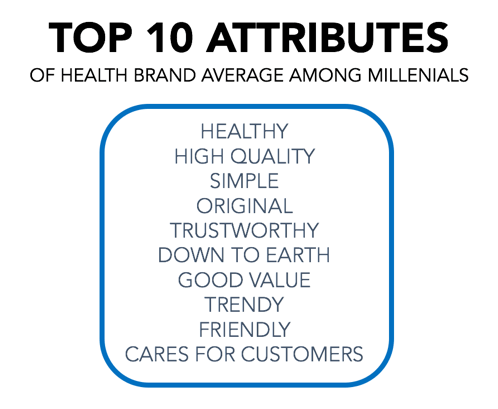 When looking at the average among all the brands mentioned, the top 10 attributes include healthy, high quality and trustworthy. Many of these qualities comprise the necessary tables takes of being a successful health-related brand for millennials.
To successfully capture the attention of the health-conscious millennial consumer, brands need to innovate and position themselves as healthy options of high quality and good value. Each brand's story should be original and authentic and its products simple with clean labels. Big companies no longer dominate the industry; instead, hundreds of small competitors that are eager to get their own ideas and inspiration out now exist. As millennials continue to healthify themselves, the brands that will succeed will be the ones that can provide a differentiated product that fits a lifestyle of being healthy, eco-friendly and community conscious.
Written by Christina Lu.